Sometimes, it's the simplest cookies that you just need the most. When I was thinking about what recipe I wanted to make this week, I really was having trouble thinking of something unique. But then, I realized, all I really wanted at the moment was sprinkles. Sprinkles make any dessert better. This is why I decided to make these very simple, yet amazingly delicious Vegan Soft Sprinkle Cookies. And trust me, they turned out way better than I thought. They were incredibly soft and chewy, with a slight crunch on the outside. The perfect cookie.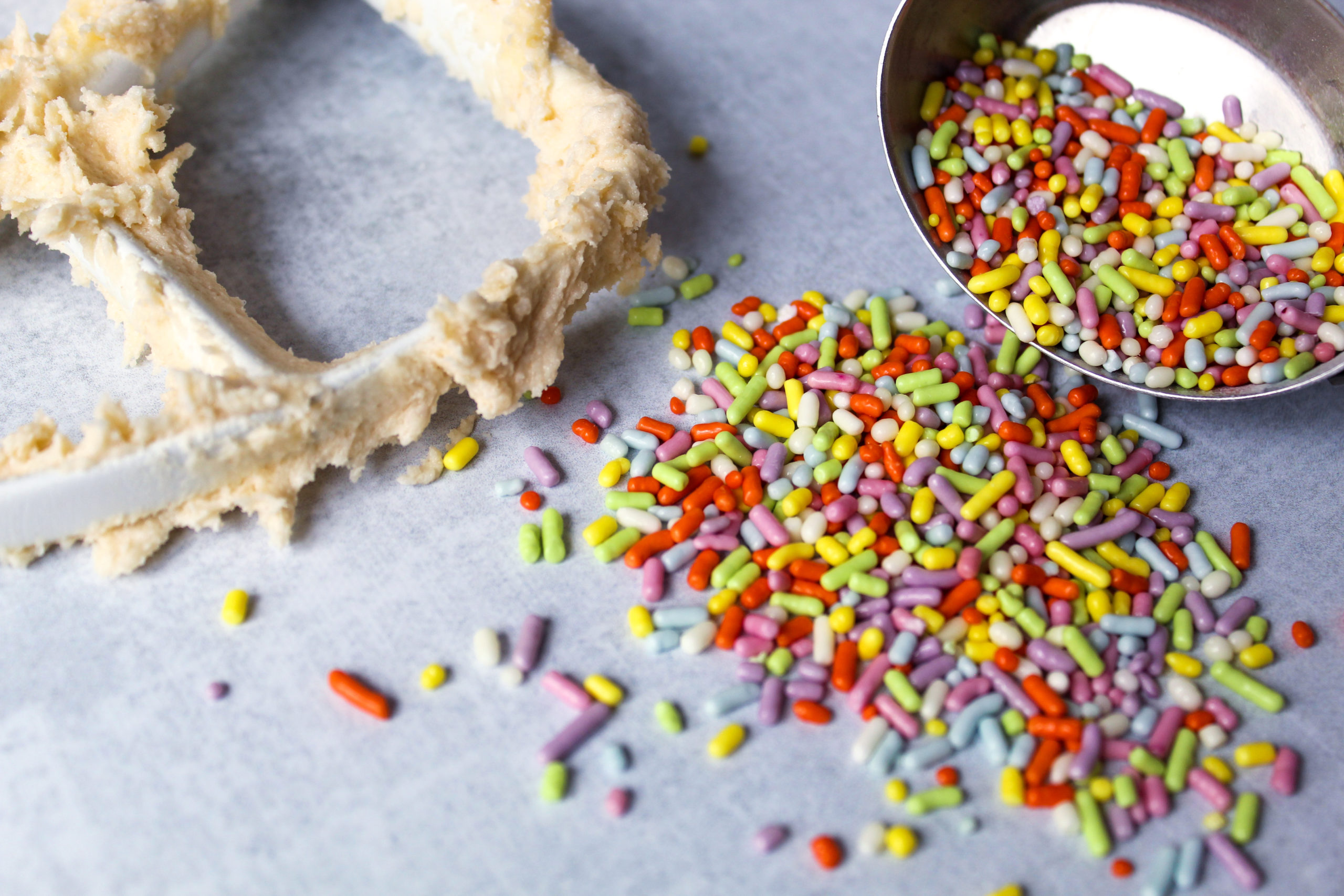 The only allergy substitute I used was the butter. I used Earth Balance butter sticks which come in vegan and soy-free. For the egg, I simply used applesauce. I find that applesauce is sometimes the easiest way to get your cookie soft and chewy. Also, make sure to look for allergy-safe sprinkles! Otherwise, this recipe can be made completely vegan and completely soy-free!
Sprinkles are just the best way to make any dessert 100 times better. Unless you're not a sprinkles person, in which case: what do you mean you're not a sprinkles person?!?!?! I don't believe it. I refuse to accept it. Everyone is a sprinkles person.
I hope you love these Vegan Soft Sprinkle Cookies as much as I did. They are light, chewy, and so so soft. I loved them so much and so did my family! If you're looking for another recipe involving sprinkles, try our Vegan Sugar Cookies. And if you want another awesome cookie recipe try these Vegan Salted Caramel Chocolate Chip Cookies. I hope you have a wonderful week and I'll see you soon!
Print Recipe
Vegan Soft Sprinkle Cookies
Sometimes you want a cookie that is soft and chewy and BIG! This Vegan Soft Confetti Cookie has a soft buttery taste and adding sprinkles to the batter makes it fun to eat.
Ingredients
1

c

non-dairy margarine, softened

1 ¼

c

granulated sugar

1

tsp

vanilla extract

⅓

c

applesauce

2 ¼

c

all-purpose flour

½

tsp

baking powder

¼

tsp

baking soda

½

tsp

fine kosher salt

½

c

vegan confetti sprinkles
Instructions
Preheat oven to 350 degrees. Line two cookie sheets with parchment paper.

Using a stand mixer with a paddle attachment, add the non-dairy margarine and sugar and cream until it is light and fluffy. Add the applesauce and vanilla and mix until it is combined.

In a medium bowl, mix the flour, baking powder, baking soda and salt. Slowly add the flour mixture to the mixing bowl and beat it on low for another 30 seconds. Gently fold in the confetti sprinkles until well combined.

Use a 3-tablespoon cookie dough scoop and place a couple of inches apart so they can spread. Bake for 18 minutes until the edges are brown but the middle is still gooey.
Notes
Note: The applesauce can be replaced with 1 large egg. The sprinkles can be replaced with non-dairy chocolate chips.
This recipe also works with a smaller cookie scooper.