Vegan, dairy-free, egg-free, nut free, peanut free
Looking for a perfect summertime cookie? These Vegan Lemon Blueberry Cookies are light and refreshing with the tangy taste of lemon and the sweet taste of blueberries. A cookie like you've never tasted before that is part cookie-like and part cake-like texture. Soft and chewy at the same time.
It's like eating a cookie and a muffin at the same time!
TEXTURE – The blueberries add moisture to this cookie which makes the batter more like a cake batter than cookie batter.
Should I eat it for breakfast or for dessert?
This cookie doesn't need a category. It's great anytime!!
FLAVOR – Lemon and blueberries have always been great partners and this cookie doesn't disappoint in flavor. What's so amazing is that the lemon and blueberry flavors hit you first and it seems like you're eating a lemon blueberry muffin but then the sugar hits you and you realize it's a sugar cookie taste.
I love surprises, don't you?
MORE SUGAR – If you prefer a stronger sugar taste, simply roll the dough balls in a bowl of sugar to coat the dough and then bake in the oven. Cookies will come out with a layer of sugar on top. Simply delicious!
FUDGIER – Looking for a fudgier cookie? Substitute melted vegan margarine for the softened butter and your cookies will have a fudgier texture like brownie cookies.
FIRMNESS – These cookies need a bit of firmness which comes with chilling the cookie dough before scooping. Chill the dough uncovered for at least 30 minutes.
COOKIE INGREDIENTS:
Flour – We used all-purpose flour, but this r recipe is easy to make gluten-free by swapping the regular flour with your 1:1 gluten-free flour of choice.
Sugar – Brown sugar works better than regular sugar with a more robust flavor and adds more moisture which helps the flour mixture clump together.
Baking Powder – Baking powder adds a leavening agent to these cookies.
Baking Soda – A small amount of baking soda is used as a leavening agent but also makes your cookies less dense.
Salt – We always use fine sea salt in our baking because it has a stronger flavor. Regular table salt would be okay.
Vegan Margarine – We used softened vegan margarine to make our cookies more cake-like. Looking for a chewier version? Try melting the vegan margarine and adding it to the wet ingredients. Just make sure it has cooled down before adding. We've always been a fan of Earth Balance and use this vegan margarine in all my recipes. Any vegan margarine works here so go ahead and substitute your favorite here.
Vanilla – Pure vanilla makes everything taste better. We used the Whole Foods 365 vanilla.
Lemon Juice and Zest – We like our lemon, so we put in 2 tablespoons of lemon juice. If you want a hint of lemon, use 1 tablespoon of lemon juice instead. We liked the added zest for a punch of flavor but didn't want to overpower the cookie taste.  If you prefer lots of lemon flavor, bump up the amount of lemon zest used.
Applesauce – Sometimes we like a little bit of spread so we replace our egg with applesauce. If you prefer denser cookies add egg replacer as your egg substitute.
Blueberries – Nothing better than freshly picked blueberries but the store-bought variety works just as well. Be sure to wash your blueberries and pat them dry. Gently fold them in to the dough so they don't break. Also be careful not to break them when you are scooping out the batter.
HOW TO MAKE LEMON BLUEBERRY COOKIES
Prepare the Baking Sheet –Prepare two baking sheets by adding parchment paper. Alternate cookie sheets in the oven halfway through.
Flour Mixture – Combine flour, baking powder, baking soda, and salt in a medium bowl and set aside.
Cream Mixture – Cream the non-dairy margarine and sugar together until light and fluffy. Add the applesauce and vanilla and mix again.
Add the Lemon – A half a large lemon should give you enough zest and lemon juice to add to the cookie mixture. Cream to mix.
Make the Dough – Slowly add the flour mixture to the sugar mixture and mix thoroughly.
Add Blueberries – Using a spatula, slowly fold blueberries into the dough mixture. Try not to smush the blueberries.
Chill the Dough – Place dough mixture in the refrigerator and let sit for at least 30 minutes.
Assemble the Cookies – Any sized scoop can be used. We used a large cookie scoop, but a smaller cookie would work just as well.
Bake Cookies – Place dough on prepared cookie sheets and bake. They are ready when cookies are slightly brown on the edges and soft to touch in the middle. Cool before eating.
More Popular Recipes
If you are looking for other cookie recipes, here are some of our most popular cookie recipes.
Vegan Dark Chocolate Brownie Cookies
Vegan Blood Orange Cardamon Cookies
Other Dessert Ideas:
Vegan Salted Caramel Chocolate Chip Cookies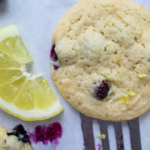 Print Recipe
Vegan Lemon Blueberry Sugar Cookies
These Vegan Lemon Blueberry are light are refreshing and perfect as a summer treat! These cookies are bursting with lemon and blueberry flavors and are soft and chewy to taste.
Ingredients
2½

c

all-purpose flour

1

tsp

baking powder

½

tsp

baking soda

½

tsp

fine kosher salt

1

c

vegan margarine, softened

1¼

c

granulated sugar

1

tsp

vanilla

2

tbsp

lemon juice

⅓

c

applesauce

1

tbsp

lemon zest

1

c

fresh blueberries
Instructions
Preheat oven to 350° and line a cookie sheet with parchment paper.

In a medium bowl, whisk together the flour, baking powder, baking soda and salt. Set aside.

Using a stand or handheld mixer, combine the brown sugar and sugar with the softened margarine. Cream on medium speed until light and fluffy. Add applesauce, vanilla, lemon juice and zest and mix until combined.

Slowly add the dry ingredients to the bowl and mix on medium until all ingredients are thoroughly combined. Fold in the blueberries.

Use a 3-tablespoon cookie dough scoop and place a couple of inches apart so they can spread. Be gentle to keep the blueberries whole before baking. Place in the oven and bake for 18-20 minutes until the edges are brown but the middle is soft.
Notes
Notes: One large egg or 1 egg replacer equivalent can be used to replace the applesauce.
For a fudgier cookie, add melted margarine instead of softened or decrease the baking powder and increase the baking soda.
Cookies will soften so they are best eaten right away but can be kept in an airtight container for 2-3 days and in the freezer for up to 3 months. 
Use regular sized cookie scoops for smaller cookies.